To Da Bone (LA)Horde
To Da Bone, presented by French arts collective (LA)HORDE part of the 2019 Belfast International Arts Festival.
In a world where revolution happens at night and laws are voted by day; what new shapes can rebellion take?
To Da Bone, presented by French arts collective (LA)HORDE, explores youth culture, identity and expression. In a world in which daily life is increasingly being lived online, this production takes a closer look at a youth subculture called Jumpstyle.
This high energy dance and music scene grew out of the 90's hardcore techno scene in the suburbs of Belgium and The Netherlands and spread globally over the internet. Young people share their solo routines online, exchanging styles and ideas with each other. As a result, communities emerge through social media whose members meet for virtual as well as real-life jumpstyle battles.
To Da Bone explores the role of Facebook and Youtube in mobilising crowds and in creating opposition movements. (LA)HORDE cast 11 jumpers from nine European countries via the internet to create this pulsing and electrifying performance with powerful intensity and emotion.
Christine and the Queens fans will recognise (LA)HORDE from the video Girlfriend, and from the current tour.
UK and Irish Premiere
Part of the 57th Belfast International Arts Festival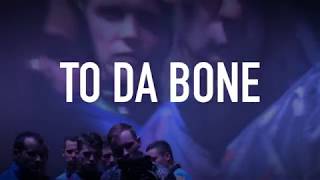 You May Also Like
Tue 22 Oct 2019

-

Wed 23 Oct 2019

£34.75-£28.75