Set in a spectacular world inspired by the Victorian futurism of HG Wells and Jules Verne, this enthralling Magic Flute perfectly balances the opera's beguiling mix of comedy, fantasy and pantomime with a profound story of the search for wisdom, love and truth.
A handsome prince, a damsel in distress, sorcerers, priests and a bumbling bird catcher – all are given life in Mozart's sublime blend of lyrical love duets, folk-like ditties and the explosive coloratura of the Queen of the Night arias. The international cast includes tenor Peter Gijsbertsen, baritone James Cleverton, name-to-watch Julia Sitkovetsky and Gemma Summerfield, First Prize winner at the 2015 Kathleen Ferrier Awards. Scottish Opera favourite Tobias Ringborg conducts.
Sung in English with English supertitles.
★★★★★ A riot from start to finish, finely crafted, vividly characterised and teeming with telling detail…and most importantly, a real hoot
The Scotsman
★★★★ Delivered with endearing wit and charm…a feast of visual detail
The Guardian
★★★★ A sure-footed and brightly entertaining production…the show is a winner
The Telegraph
★★★★ Impressive and fizzing with enjoyment
Bachtrack
Reviews taken from original 2012 production.
Conductor Tobias Ringborg
Director Sir Thomas Allen
Set & Costume Designer Simon Higlett
Lighting Designer Mark Jonathan
Movement Director Kally Lloyd-Jones
Translation Kit Hesketh-Harvey
Supported by The Scottish Opera Syndicate.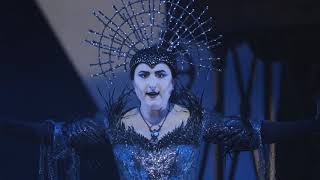 Special Events
The Magic Flute Unwrapped
Friday 28 June 6pm
Ever wanted to find out why the show is over when the fat lady sings, how the cast fit in some many costume changes.  Now is your chance!
Scottish Opera are unwrapping a treat for opera newbies and opera aficionados. Presented from the Grand Opera House stage The Magic Flute Unwrapped is an opera production like no other. Singers, back-stage crew and The Orchestra of Scottish Opera will demystify and take the audience through this breath-taking production step by step.
You'll hear highlights from the music and find out more about the props, costumes, lighting and direction, as well as some back-stage secrets.
Tickets are just £5 – come along and find out more!
Free Pre-show Talk
Saturday 29 June 6pm
Want to know more about the opera you're going to see? Look out for a performance with a Pre-show Talk. These free half-hour talks delve deeper into the opera, enhancing your enjoyment and extending your knowledge. Tickets are free but should be reserved in advance.
You May Also Like
Thu 18 Jul 2019

-

Sun 21 Jul 2019

£24.25 - £15.75

Tue 17 Sep 2019

-

Sat 21 Sep 2019

£51.25 - £16.75