SIX
DIVORCED ★ BEHEADED ★ LIVE!
Divorced, beheaded, died, divorced, beheaded, survived.
All this time
They've been just one word in a stupid rhyme
So they picked up a pen and a microphone
History's about to get overthrown. 
The international smash-hit musical SIX is coming to Belfast!
Multi award-winning, with a spectacularly successful sound-track storming charts across the globe, this sell-out Tudor take-off has 'an incredibly strong and powerful message. Boundary-pushing, genre-redefining' (The Australian) and is 'pure entertainment' (The New York Times).
From Tudor Queens to Pop Princesses, the six wives of Henry VIII take to the mic to tell their tales, remixing five hundred years of historical heartbreak into an 80-minute celebration of 21st century girl power. These Queens may have green sleeves but their lipstick is rebellious red.
Think you know the rhyme, think again…
Divorced. Beheaded. LIVE!
⭐⭐⭐⭐⭐ 'The most uplifting new British musical I have ever had the privilege to watch' The Evening Standard
⭐⭐⭐⭐⭐'75 minutes of exhilarting entertainment from six killer queens. They will, they will rock you!' Daily Express
⭐⭐⭐⭐⭐'SIX is a marvellous show. A royal treat.' The Telegraph
Please note: These performances are subject to social distancing restrictions being lifted.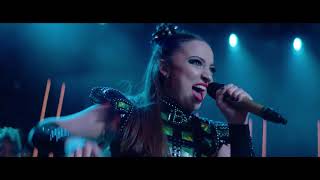 You May Also Like
Tue 12 Oct 2021

-

Sat 16 Oct 2021

£52.75 - £33.75

Tue 26 Oct 2021

-

Sat 30 Oct 2021

£49.25 - £24.75

Mon 01 Nov 2021

-

Sat 06 Nov 2021

£50.25 - £22.25