Miss Saigon School Edition
The Grand Opera House Trust presents
Miss Saigon® School Edition
performed entirely by students
Music by CLAUDE-MICHEL SCHONBERG
Lyrics by RICHARD MALTBY JR and ALAIN BOUBLIL
Adapted from the original French lyrics by ALAIN BOUBLIL
Additional material by RICHARD MALTBY JR
Orchestrations by WILLIAM DAVID BROHN
Original Stage Production by CAMERON MACKINTOSH
School Edition special adaptation licenced by
MUSIC THEATRE INTERNATIONAL and CAMERON MACKINTOSH LTD
The Grand Opera House Summer Youth Project returns in July 2019 for its ninth year with not just one but two unmissable productions. Eighty of the most talented 16-18 year olds in Northern Ireland will come together to stage one of the Grand Opera House's most ambitious youth productions to date, Cameron Mackintosh's stunning Miss Saigon® School Edition. Miss Saigon® School Edition. 
The overwhelming power of its music along with a heart-stopping story of love and loss combine to make this West End and Broadway classic an irresistible musical theatre experience. Nominated for an incredible number of Olivier, Tony and Drama Desk Awards, it has now been adapted for young people.
Passion turns to tragedy when seventeen-year old refugee Kim and her G.I. sweetheart Chris are thrown together in a whirlwind love affair in war-torn Vietnam, only to find themselves wrenched apart in the cataclysmic fall of the City of Saigon. Three years later when Chris returns  with his American wife, the two are reunited with devastating consequences.
Lavishly staged by a professional creative team, this powerful Grand Opera House Summer Youth Production is the most ambitious to date, bringing together eighty of Northern Ireland's rising musical theatre stars. Supported by a magnificent seventeen-piece orchestra, the impressive score and surging power ballads in Cameron Mackintosh's stunning Miss Saigon® School Edition, amongst them The Movie in my Mind, and I Still Believe, show-stoppers such as Bui Doi and The American Dream, are guaranteed to tug the heart-strings.
Find out more about this year's second production – Bugsy Malone.
Don't let the fact that it's a Grand Opera House Summer Youth Project production suggest that its anything less than utterly professional…it was jaw-droppingly stunningly impressive.
The Irish News (Oliver!, 2017)
Proudly supported by Phoenix Natural Gas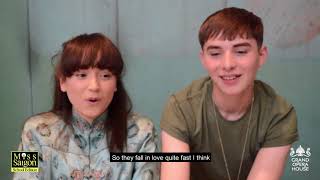 You May Also Like
Thu 01 Aug 2019

-

Sat 03 Aug 2019

£24.25 - £15.75

Tue 29 Oct 2019

-

Sat 02 Nov 2019

£46.75 - £21.25

Sat 30 Nov 2019

-

Sun 12 Jan 2020

£35.50 - £22.25