La Fille mal gardée
The funniest, sunniest English ballet masterpiece!
This November Birmingham Royal Ballet brings the sunniest and funniest of ballets to the Grand Opera House with the ever-summery La Fille mal gardée (The Wayward Daughter).
Lise has a choice to make. Loaded country bumpkin or penniless, hunky farmhand? Of course, there's no contest, but her mum has other ideas. Heels are dug in and sparks fly, as a mother-daughter battle ensues.
Mixing spectacular classical ballet with slick comedy, a clog-dancing dame and a super-cute pony, as well as live music by the Royal Ballet Sinfonia, this is sure to be fantastic entertainment for you, your friends, and all your family!
★★★★ 'Enchantingly and hilariously silly' The Daily Telegraph
★★★★ 'Unmissable' The Daily Express
★★★★★ 'If there is a happier ballet than Fille, then I do not know of it' The Birmingham Post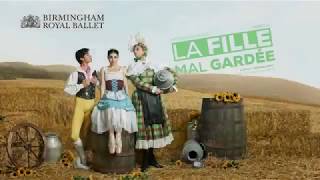 BRB+
Free Pre-Performance Talk
Friday 9 November 6.30pm. Call box office on 028 9024 1919 to reserve your place
A unique opportunity to hear about what it takes to be performance ready. Hear how Birmingham Royal Ballet stages its magnificent shows and what life is really like on the road. Talks are given by dancers of the Company as well as various members of staff .
First Steps Interactive Performance
Friday 9 November 1pm | £12.50 | (age 3+)
This hour-long, interactive show, specially adapted for children aged 3+, features ballet excerpts from La Fille mal gardée, performed by Birmingham Royal Ballet's amazing dancers and orchestra, interspersed with scenes in which a storyteller introduces the children to the music and the leading characters, and shares some technical magic. A feast of dance, music, costumes and lots of fun, this is a perfect introduction to ballet.

Company class on stage
Saturday 11.45am | £10
Ever wondered what a ballet dancer does to prepare for a day of rehearsal and performance? This is your chance to watch an open Company class on stage and find out.
You May Also Like
Sun 30 Sep 2018

-

Sat 06 Oct 2018

£51.25 - £21.25 (Charity Gala Premium Ticket Sunday 30 September- £76.75)

Fri 02 Nov 2018

-

Sat 03 Nov 2018

£33.25 - £19.75